A Summer Intern Spotlight: First Impressions
July 2023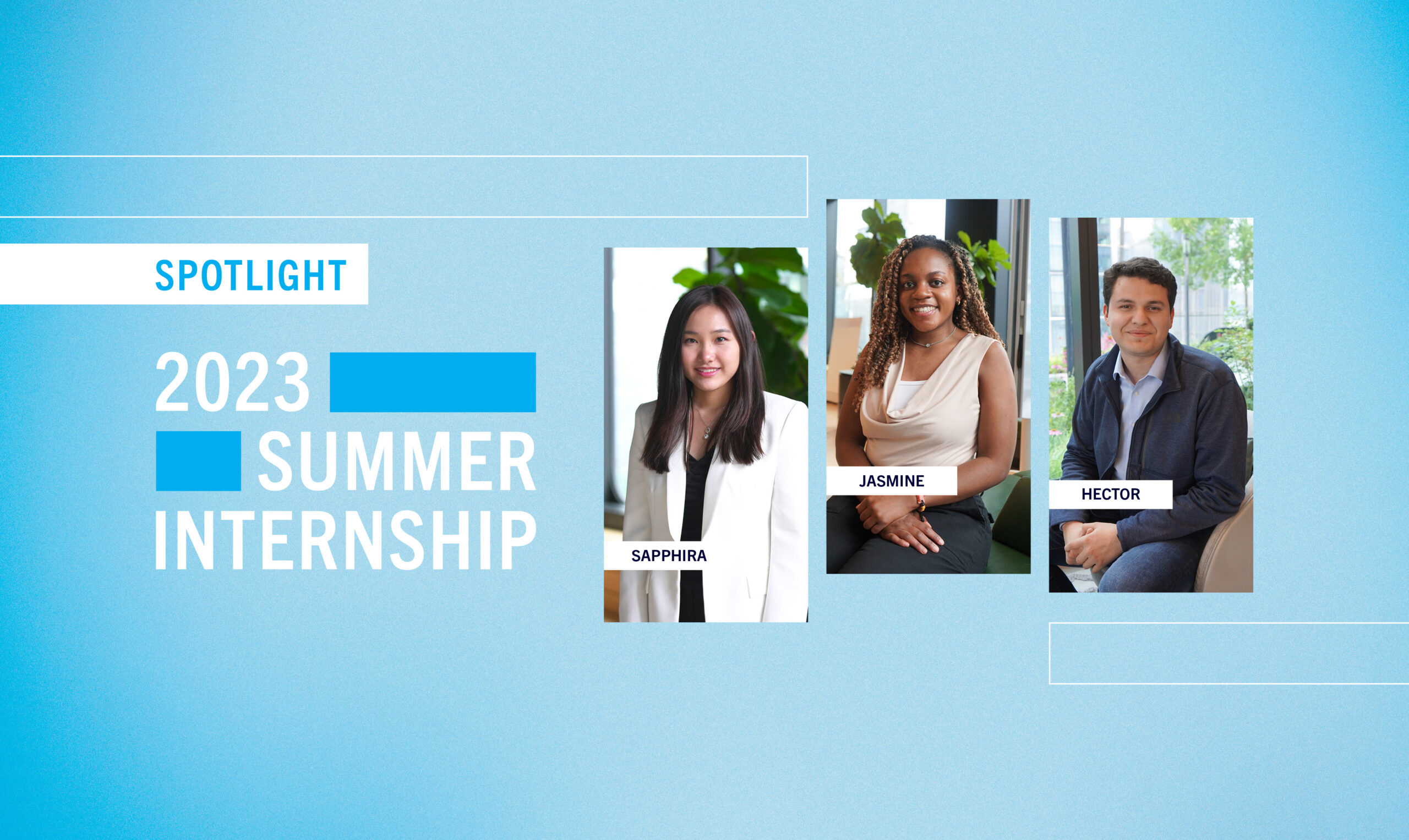 This June, we welcomed our largest intern class ever with more than 170 interns spending the summer with us across our global offices! We caught up with three interns to learn more about their background, role this summer, and first impressions of our firm.
---
What is your role here for the summer?
Sapphira: I am part of the Academy internship this summer, where I look forward to developing my skillset, learning about how to approach investing, and meeting other people who are very passionate about investing. 
Jasmine: I'm on the Market Intelligence team as a Data Insights Intern. I will be mainly working with the technology, media, and telecom (TMT) group, where I will be looking at data and doing research on companies. 
Hector: I am part of the Treasury team. I'm learning how to analyze macro products such as OTC instruments, futures, repo, and other derivatives that impact the margin requirements for each portfolio manager or trader. 
Tell us about your hometown and educational background.
Sapphira: I am from Wilton, Connecticut. I go to the Wharton School of the University of Pennsylvania, where I am concentrating in finance and entrepreneurship. I am a Division I student athlete on the varsity fencing team and the president of three student organizations focusing on ESG, Tech, and Innovation. 
Jasmine: I'm from the Chicago metropolitan area. Recently, I graduated from Rensselaer Polytechnic Institute in Troy, New York where I received my bachelor's degree in business management with a minor in IT and Web Science. Starting in August, I'll be pursuing my Master of Professional Studies in Management at Cornell University's SC Johnson Graduate School of Management. 
Hector: I'm from a small town in South Michigan, but I go to Michigan State University, which is the opposite. It's a huge school with a ton of things to do, which is why I love it there. I am majoring in finance and have a deep interest in computer science as well. I also founded a club to help underclassmen navigate the work search and am a part of a couple investment association clubs. 
What were your first impressions of the firm during your first week?
Sapphira: I learned so much even during my first week, so I hope to keep that learning pace up. The team has also been incredibly supportive, addressing any questions or confusion I initially had while adapting and growing my investing approach. 
Jasmine: There are such nice people wanting to help you. You don't feel like there is a hierarchy. I mean, people do have roles, but everyone's treated fairly and the same.  
Hector: I was astonished. The building is absolutely unbelievable, and it shows how management really cares about our people. We always hear this idea of growth and personal development, and you can really see it in the employees here constantly trying to develop themselves both professionally and personally, which makes me very excited to be a part of the firm, hopefully for the long run. 
How do you see this internship fitting into your overall career goals?
Sapphira: I think it can really be summarized into one word: growth. I really want to grow my skillset, develop my investing career, and learn as much as possible. I would like to work in buy-side finance, particularly hedge funds. So far, it's been really exciting. I got my start when I won first place at the Morgan Stanley Future Asset Manager simulation, and I felt this rush and that was something I really wanted to do throughout my life. And so, I see this as a huge and really steep learning curve where I can further pursue my passion for investing and also develop my overall skills. 
Jasmine: I want to help people in the Democratic Republic of the Congo, where my family is from, learn about financial literacy to help them live a better and more stable life. Being a woman of color in a field where there are very few of us inspires me to encourage other aspiring women of color to enter this field and succeed. Point72 is a place that allows me to grow in the skills I want to share with others and is an environment that allows me to be myself at work which I truly appreciate.  
Hector: I have a strong desire to end up at a place where I truly feel a sense of connection and satisfaction. Even though it has only been a week, I can confidently say that I genuinely like this firm. The reason is simple—everyone here is incredibly intelligent, which is quite inspiring, and they genuinely care about their people. It's refreshing to see that their priority extends beyond just business. 
What has been your favorite part so far?
Sapphira: This is probably a cheesy answer, but the people here. The Academy coaches are so supportive of our personal development, and they really believe in us, which is just an amazing support network to have. There is also a real sense of camaraderie among the interns, which is incredible to be a part of. 
Jasmine: I loved the intern sunset sail around NYC. It was nice bonding with fellow interns over conversations about our passions and hobbies.
Hector: The weekly speaker series with Point72 senior leadership because it provides an informal setting to connect with them. Just the other day, we had Gavin O'Connor, Point72's Chief Operating Officer, speak about his career path and his current role within the firm. Now whenever I see him in the hallways, we say hi. That's what truly excites me about Point72—the accessibility and approachability of individuals at all levels. 
What hobbies do you pursue in your free time?
Sapphira: I'm a big Formula One fan.  The thrill of the races and how quickly the rankings can change are all very exciting to me – I love fast-paced environments in fencing, and I feel that translates to my enjoyment of F1. I also really like trying new restaurants with friends. 
Jasmine: Some of my hobbies include cooking, listening to music from different cultures like Congolese and Nigerian music. I also love learning different languages and practicing my French and Spanish.  
Hector: Besides playing volleyball occasionally, I also engage in mixed martial arts (MMA) in my free time, which is something I truly enjoy. Additionally, I find solace in hiking. There's something therapeutic about immersing myself in nature and clearing my mind. These activities are not only hobbies but also vital stress relievers for me. 
---
If you're interested in starting your career with Point72 at one of our global offices, explore our open internship and early-career opportunities here: 
This is not an advertisement nor an offer to sell nor a solicitation of an offer to invest in any entity or other investment vehicle. The information herein is not intended to be used as a guide to investing or as a source of any specific investment recommendation, and it makes no implied or express recommendation concerning the suitability of an investment for any particular investor. The opinions, projections and other forward-looking statements are based on assumptions that the authors' believe to be reasonable but are subject to a wide range of risks and uncertainties, and, therefore, actual outcomes and future events may differ materially from those expressed or implied by such statements. Point72, L.P. or an affiliate may seek to invest in one or more of the companies discussed herein.
---