Summer Intern Spotlight: Lasting Impressions
August 2023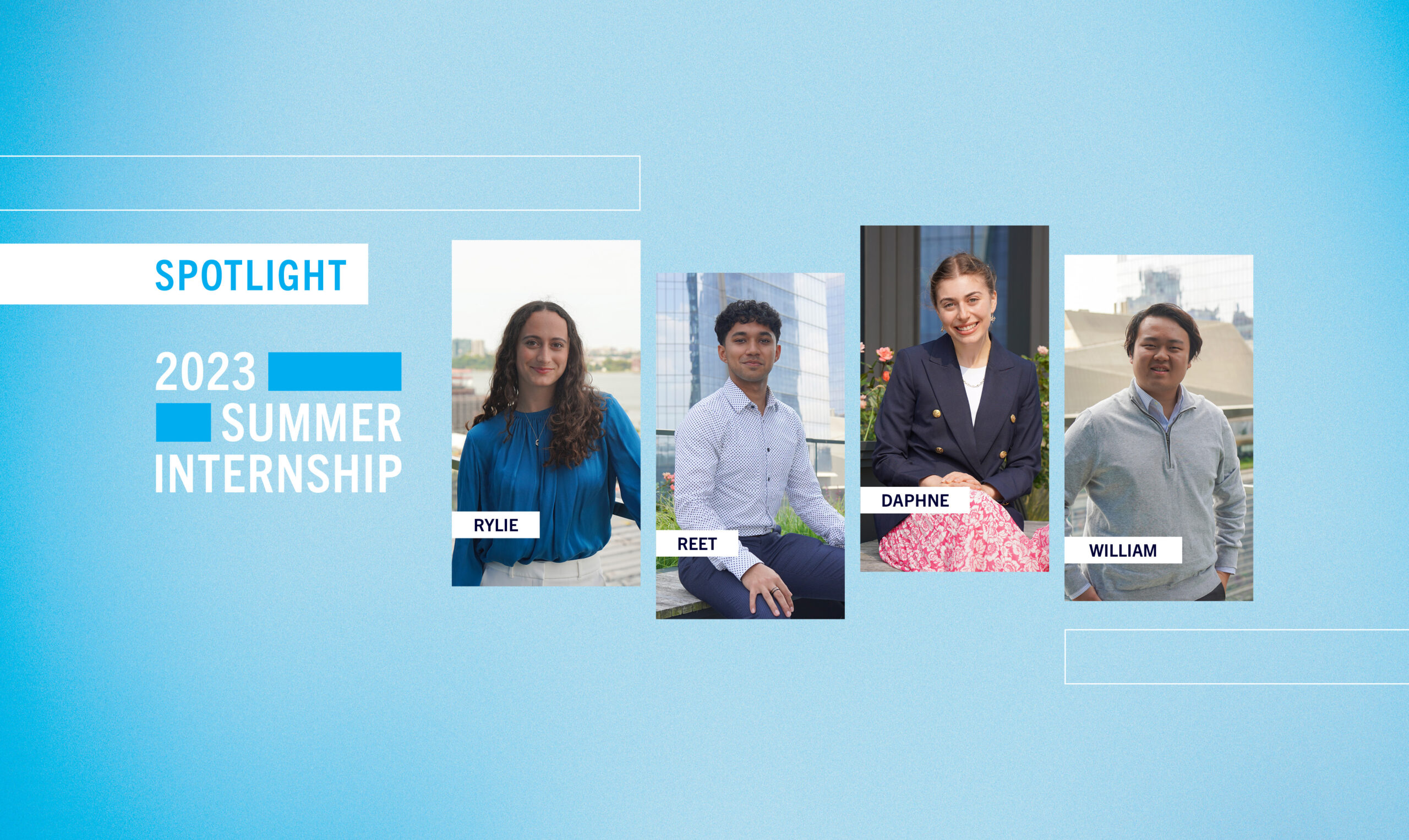 With our summer internship program coming to a close, we caught up with four of our interns to hear about their time at the firm and how this summer experience changed the way they look at the world.
---
What was your role here for the summer? 
Rylie: I was a Point72 Academy Summer Intern. It was a really busy summer. The first week we met the intern class and got thrown into the swing of things by covering a company; the next three weeks were spent with a PM team; and then the last four weeks were spent covering different companies and really developing our investment skills. 
Reet: I was on the ESG Compliance team. We're a small team that oversees the firm's approach to ESG research and regulation. Specifically, I researched and analyzed various investment exposure to material environmental, social, and governance risks to support research relevant to our investment teams' products and strategies. 
William: I was a summer intern with the Academy. In terms of my general role, the first week we were assigned a stock pitch project and for the next three weeks we were on PM rotations which led to our first pitch. 
Daphne: I was an Operational Risk Intern working primarily in Third Party Risk Oversight. Through due diligence and metadata gathering projects, I gained an appreciation for the types of risk the firm assumes when engaging with external vendors and helped my manager with developing a risk-management framework to manage those risks. 
Tell us about your hometown and educational background. 
Rylie: I grew up in Manhattan and now live in Bradenton, Florida. I go to school at MIT, where I'm studying mechanical engineering and minoring in finance. On campus, I am on the varsity softball team, the Chief Learning Officer of my sorority, as well as a member of the Student Athletic Associate Advisory Committee and Investment Management Club. 
Reet: I am from a small town right outside Portland, Oregon. I'm a rising junior at Columbia University, studying economics and international relations. I am involved in several organizations on campus such as the Columbia Culinary Society, Bartending Agency, and the Undergraduate Law Review. 
William: I'm from Dayton, Ohio, and am currently a rising senior at UPenn, studying biochemistry and biology. On campus, I am heavily involved in both academic and scientific research, as well as a member of the student government and the Wharton Finance Club.  
Daphne: I was born and raised in NYC, and I go to Yale where I'm studying computer science. At school, I'm involved in Code Haven, an organization devoted to bringing computer science education to local middle schools, a pre-orientation hiking trip program, and my residential college's student council. This fall, I'm trying out costume design for the musical "Fiddler on the Roof"! 
What was the most rewarding thing about working at Point72 this summer? 
Rylie: I'd say the most rewarding part is developing your skills. I mean, nothing is going to be perfect, and I think we've learned a lot about that lesson. Part of the job is failing, and even the most successful investors get it wrong something like half the time, so being able to learn from your mistakes and not be discouraged was an amazing lesson from the Academy. 
Reet: I care a lot about sustainability and the environment and being able to combine that love with finance was an unbelievable experience. Another rewarding aspect of my summer was being able to work for one of the industry's leading compliance departments; you can't get that experience in many places.  
William: Just seeing my own personal development has been awesome. I came in so much less knowledgeable than I am now and the development I've seen in both my hard and soft skills is wonderful. More importantly, the most rewarding thing for me has been getting to know my fellow interns and the Academy team. There really is a great sense of companionship between all of us that has developed over the course of the summer. 
Daphne: The most rewarding part of my summer has been learning from my manager and from so many terrific people at the firm. In my career, I hope to be surrounded by people as great as those I've met at Point72: smart, interested in the world, super-competent, and kind. Through the Summer Speaker Series, coffee chats, and my work in Operational Risk, I've gained an overview of the moving parts that make the firm and general workplace skills. 
How did the work you do change the way you look at the world? 
Rylie: One of the most valuable lessons that I learned is not every good business is a good stock, and not every bad business is a bad stock. Being able to separate the stock from the company is an important takeaway, and this experience will forever change how I look at companies and the stock market going forward. 
Reet: This experience has really changed my view of just how much potential there is for the transition to a lower carbon economy through market forces, renewable energy, and considerations of ESG data into investment decisions. With large firms such as Point72 evaluating the potential exposure to environmental risks, it is very promising for the future and has definitely changed my views on the world of clean energy. 
William: I think it's helped me look at the world from a more logical perspective. One example of this is during public earnings calls. I have gained a much deeper understanding of finance over the last eight weeks and during these calls I have gained the ability to identify what companies are saying and when it doesn't align with the numbers. 
Daphne: Before this internship, I didn't know how a hedge fund worked, and I didn't realize the range of fascinating roles a firm like Point72 offered. I've met risk managers, economists, former journalists, engineers working on AI and ML projects and communications managers, to name a few. 
What are your overall thoughts and feelings about your internship experience? 
Rylie: The Academy has allowed me to develop and practice so many skills that are hopefully going to push me to be a successful investor. I feel like the culture at Point72 is really about collegiality, commerciality, and kind of striving towards being better and developing yourself. 
Reet: I'm very grateful for the overall internship experience here. Being the first ESG intern here has really allowed me to witness first-hand an emerging department at the firm. Coming into the office and seeing the tangible results of my work is very fulfilling. I couldn't ask for a better summer of networking and professional growth. 
William: To be honest, it has been probably one of the coolest experiences I've ever had. Point72 is one of the world's largest hedge funds and having the ability to see investors of such caliber go about their day-to-day and learn about their craft is an experience I don't take lightly and am extremely grateful for. 
Daphne: I couldn't have asked for a better internship experience. The internship coordinators exposed us to all types of opportunities at the firm and really made us feel valued. These past 10 weeks have opened my eyes to how a hedge fund operates and all the exciting opportunities out there for someone like me who is interested in applications of technology in different industries. 
What were the most valuable lessons you learned this summer? 
Rylie: Being exposed to all the speakers in the leadership series was incredible. Getting first-hand knowledge from senior executives at the firm who have been here and succeeded for so long and listening to what they think makes Point72 so special was amazing and makes you proud to be at the firm. Also, I think coming from a nontraditional finance background showed me that you can't control everything you know coming into the firm but putting your head down and working hard is a huge aspect of the culture here, and that's something that you can control. 
Reet: Some advice I would give is to always have an open mind when talking to new people. I think it's really easy to go into a conversation with preconceived notions but listening in on other people's perspectives can really change the way you think about things and building those strong, genuine relationships can pay great dividends for you.  
William: I learned what it's like to work on a long/short investing team and found the process of evaluating stocks to be very interesting. I was also surprised by the collaborative culture and sense of comradery across the firm. Coming in, I felt like hedge funds were typically viewed as being kind of siloed and more secretive, but it's genuinely not the case here. Lastly, living in New York has been an unbelievable experience with an endless list of exciting things to do. It's an incredibly diverse city and you get to see elements of cultures from around the globe. 
Daphne: There are so many different roles at this firm, and you don't know all of them, so ask people about their jobs! You'll learn a lot about the firm this way. Gavin O'Connor, our COO, told us that most jobs are simple: make your manager's job easier and work to simplify rather than complicate situations, which I found to be valuable advice. Also, be open to being interested in new and unfamiliar work, that's where growth happens. 
This is not an advertisement nor an offer to sell nor a solicitation of an offer to invest in any entity or other investment vehicle. The information herein is not intended to be used as a guide to investing or as a source of any specific investment recommendation, and it makes no implied or express recommendation concerning the suitability of an investment for any particular investor. The opinions, projections and other forward-looking statements are based on assumptions that the authors' believe to be reasonable but are subject to a wide range of risks and uncertainties, and, therefore, actual outcomes and future events may differ materially from those expressed or implied by such statements. Point72, L.P. or an affiliate may seek to invest in one or more of the companies discussed herein.
---