Ewelina Stankiewicz and Warsaw Recruiting
March 2023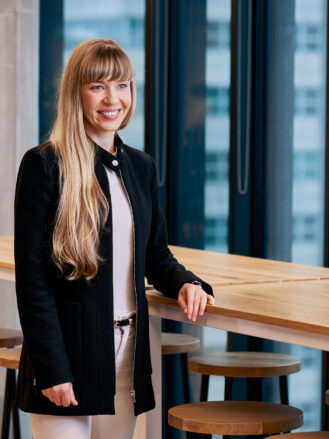 Ewelina Stankiewicz, Senior Recruiting Manager for Warsaw, joined us to talk about building culture in a new office, recruiting on four continents during her career, and recharging with sports.
---
Tell me about your role here.
I lead recruiting for all areas of our business in Warsaw, which includes Technology, Operations, Finance, Market Intelligence, Point72 Ventures, HR, Tax, Cubist, and any new teams that are permitted to establish a presence here. In each instance, I partner with functional recruitment teams to provide regional support and help them find the best talent in Warsaw at all levels of seniority.
As regional recruiter in a matrix organization, working collaboratively with functional recruiting teams has been a really effective partnership for us. It has allowed us to hire more than 300 top-notch people in around two and a half years.
In addition to recruiting, I also work on brand building and outside event planning for the Warsaw office.
How did you start your career in recruiting?
I'm from a small city in Poland, Opole. I've always wanted to explore the world. During university I decided to take part in the Erasmus program in Portugal. It was an amazing opportunity and really helped me grow in terms of getting to know people from different backgrounds and cultures and being more open and sensitive to their needs.
After I returned to Poland for my final year at university, I decided to go to Brazil for four months to intern at a human resources company specializing in placing students in internships at various global companies.
I was able to practice my Portuguese, meet new people, and have an amazing experience. When I returned to Poland, I was already thinking, "Okay, what is next? Where can I go?" I'd never been to Asia, but through a student organization I found a one-year project at a small executive search firm in Malaysia.
I took it, and it was my first experience as a full-time recruiter, working for a small local Chinese company. I gained a lot of knowledge as a junior recruiter and after a year I returned to Poland. I joined a global recruiting firm, Hays, working as a recruiter and specializing in IT recruitment. I became an account manager for one of their biggest clients back then, Goldman Sachs. After a year I went to work for them directly.
How'd you get here?
I came here from Standard Chartered, where I was recruiting for front-office positions for their U.S. teams, after working for Goldman.
I think I was the 24th or 25th employee in Warsaw for Point72. It's amazing to build something from zero, where you can really influence major decisions, share your knowledge, and inspire people.
What's the culture like in our Warsaw office?
We have a unique environment that Rafa Lopez Espinosa, our International Chief Operating Officer, created from the very beginning. He's a culture carrier for Point72, and he is always making sure that everyone we hire is very open minded, innovative, knowledgeable, and professional.
We're fast-growing and we work hard to make sure everyone feels like part of the firm from day one. When someone joins, we have a day dedicated to onboarding training, which includes a company overview, HR and Compliance training, and initial meetings with managers and teams. Every Friday, we have an all-staff meeting where we share Warsaw management updates, and we often hear from special speakers from around the firm. Additionally, we have integration activities every few weeks. We're also very international—I think we have almost 20 nationalities represented.
What do you like about working here?
I really like the people that I work with, I like the culture here, the support that I have, the flat structure, and how ever-changing it is. There are tons of opportunities here. Every day is a new challenge. We do impactful and creative work that contributes to the firm's overall success.
What's keeping you busy at the moment?
Recruiting and building our reputation in Warsaw. We want to be known as a company that values constant development, innovation, high ethical standards, and diversity. We have a great partnership with the IT for She program organizers, and we continue to work on attracting female technologists and spreading tech passion among kids from unprivileged communities. There is opportunity to do even more on that front. So, more to come.
And who are you away from the desk?
I love to play sports, it helps me recharge. I snowboard in the winter, I surf during the summer, and I like various fitness classes, like yoga and Pilates. Recently, I've become a huge fan of Pilates on the reformer. It's becoming very popular in Warsaw now, so I'm attending a couple of classes every week. I'm also learning Spanish.
This is not an advertisement nor an offer to sell nor a solicitation of an offer to invest in any entity or other investment vehicle. The information herein is not intended to be used as a guide to investing or as a source of any specific investment recommendation, and it makes no implied or express recommendation concerning the suitability of an investment for any particular investor. The opinions, projections and other forward-looking statements are based on assumptions that the authors' believe to be reasonable but are subject to a wide range of risks and uncertainties, and, therefore, actual outcomes and future events may differ materially from those expressed or implied by such statements. Point72, L.P. or an affiliate may seek to invest in one or more of the companies discussed herein.
---