Point72 Celebrates Asian American and Pacific Islander Heritage Month
May 2023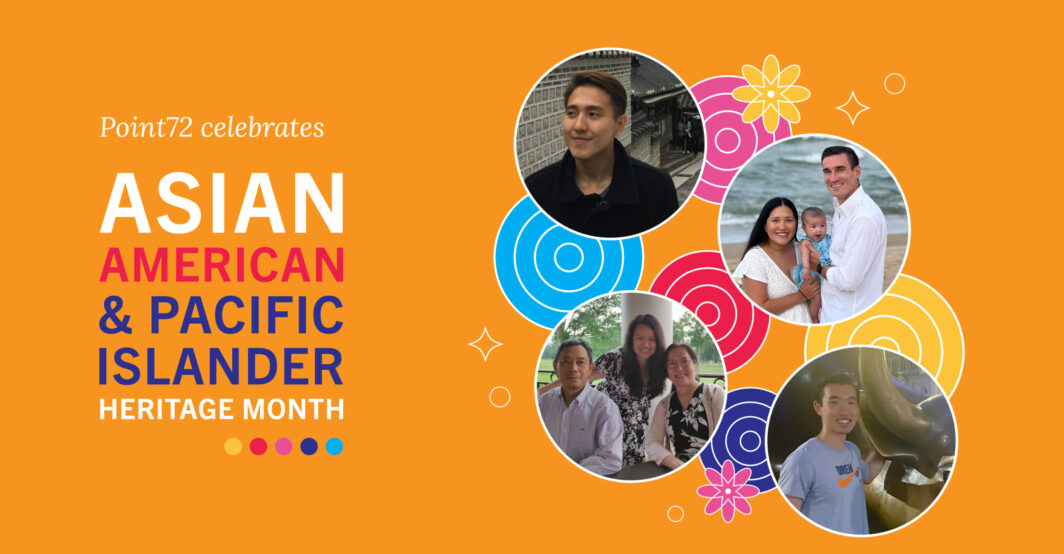 May is a time to pay tribute to the generations of Asian Americans and Pacific Islanders who have shaped America's history. We sat down with four colleagues from our AAPI community and asked them to share what their heritage means to them and how they honor their culture through customs and traditions during Asian American and Pacific Islander Heritage Month.
---
Tell us about your role at Point72?
Wendy: As an Internal Communications Associate, I partner with teams and departments around the firm to help effectively communicate their messages. I started here almost seven years ago, fresh out of college, not knowing what I really wanted to do, and now I couldn't imagine doing anything else.
Craig: I am an Analyst covering Clean Tech on a long/short investing team. I joined the team in April 2022 after graduating from the Point72 Academy and interning with the firm for a summer. I enjoy covering such a dynamic space with crucial societal impacts as the world works towards its environmental goals.
Yanna: As Head of Vendor Accounting Operations for the past seven years, I manage various finance operational core functions and critical payment responsibilities for all office jurisdictions and help employees work through challenges that impact their business areas. I am very fortunate to have developed great working relationships with so many intelligent, inspiring, and dedicated colleagues across the firm.
Jae Ho: I have been with the Risk Management and Quantitative Research team for the past eight years. I build risk models, analyze the risk versus reward characteristics of various exposures in our portfolios, devise new risk limits, and forecast their impact. In June, I will be moving onto a new role in our systematic investing business, Cubist. There is a deep sense of camaraderie at Point72, and I couldn't ask for a better company to work for.
Tell us about your heritage and your upbringing. Are there any cultural or family traditions that you'd like to share? 
Wendy: I was born in Vietnam and immigrated here when I was two years old. I've only gone back a handful of times, but my parents have done a good job keeping my culture a part of my life. I think my favorite tradition is celebrating Lunar New Year with my family. My parents host a party every year where we celebrate the New Year with our friends by playing games, eating good food, and passing out lucky money in red envelopes.
Craig: I was born and raised in Toronto as a sixth-generation Canadian, but my family heritage is half Chinese and half Japanese. Despite only speaking Cantonese, my mother's side immigrated to Canada from China in the mid-1800s to build the railroad in British Columbia. They arrived with a $500 debt that took nearly a decade to pay off. After the railroads were complete, the next generation worked at the Chicago Restaurant in North Bay, Ontario, before moving to Toronto for greater opportunities.
My father's side first settled in Vancouver during the late-1800s and were later interned during WW2 due to their Japanese heritage, notwithstanding being second generation Canadians. Having lost all their belongings and property, they too relocated to Toronto for a fresh start and new opportunities. I aspire to replicate the resilience, grit, and determination that generations of my family demonstrated through their hardships immigrating and assimilating to life in Canada.
Yanna: I was born in Guangzhou City, one of the major cities located in southern China where Cantonese is the native language at home, while Mandarin was taught in the classroom. When I was nine, my parents and I moved to the English-speaking Trinidad and Tobago in the Caribbean. Starting a new life for my parents was not easy, especially in a new country speaking a foreign language. My mom and dad hoped it would bring a bright future for our family with a new beginning, and continued to instill in me the traditional teachings of the Chinese culture: study hard, work hard, be respectful to everyone, be kind, and put others before myself.
Growing up in a Cantonese cuisine family restaurant, my parents taught me tips and tricks in the kitchen on how to make delicious Cantonese dishes. Sometimes they even infused the dishes with Caribbean spices to give it a Trini-Caribbean twist, but nothing beats the amazing flavor profiles of authentic Cantonese cuisine, especially in Cantonese Dim Sum.
Jae Ho: I was born in South Korea, and I moved to the U.S. when I was 13. A somewhat paradoxical aspect of my upbringing is that I did not consider myself to be an immigrant. As a senior civil servant, my father felt a deep sense of patriotic duty to his country and always assumed that his family would remain Korean. Dinner table conversation with my father was mostly about Korean history, Korea's place in the world, and our family roots in Korea.
In my late twenties, I decided to stay in the U.S. permanently, and have lived here now for 20 plus years. Being American is now part a significant part of my identity. Being '-American' has influenced me to be more flexible, inclusive, and empathetic towards those from different cultural and ethnic backgrounds.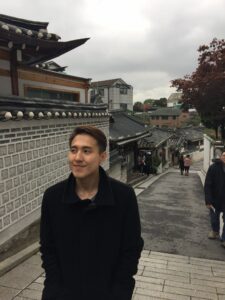 How do you honor/celebrate AAPI Heritage Month?
Wendy: I try to honor my heritage in my everyday life, especially since having my daughter. This year, she celebrated her first Lunar New Year, where she wore a traditional áo dài and had her first eggroll!
Craig: A tradition for large gatherings, as well as AAPI Heritage Month, is making dumplings with my family. The recipe has been passed down through my family and it is a great way to bring people together; as a bonus, it requires relatively little culinary talent.
Yanna: I celebrate by enjoying delicious Cantonese Dim Sum in Flushing or Chinatown.
Jae Ho: I try to read more books and articles written by Asian American authors. Last year I read the Loneliest Americans by Jay Kang, and for this year I plan to read Helen Zia's Last Boat Out of Shanghai.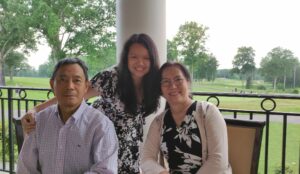 Has anyone played a role in opening doors for you?
Wendy: My dad. He immigrated here when he was 18 years old to provide a better life for his family back in Vietnam. He would work in the factory all day and wash dishes at night just so he could send money home to his parents. He taught me what it's like to be a selfless parent and is my number one fan. He's the reason I am where I am today. If it wasn't for him, who knows what my life would be like.
Craig: I am very fortunate to have had several influential members of the Point72 community support my career at the firm. I had coaches and mentors in the Academy that were instrumental in preparing me for my role today, and I continue to learn from my team members.
Yanna: During the first few years in Trinidad, my parents had very little money but were fortunate to have gotten jobs in various restaurants while saving to eventually open their own family restaurant. My parents endured and sacrificed for many years so that I could have the means and the opportunity to go to university in the United States and to create and pursue my path on my own. Everything that I have achieved, I owe to my parents.
Jae Ho: Yes. I was helped and encouraged by a Korean-American investor. He was very generous in his mentorship, and I learned a lot from him.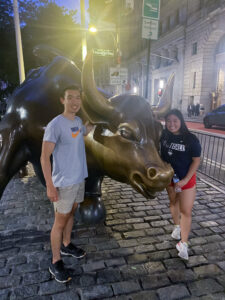 This is not an advertisement nor an offer to sell nor a solicitation of an offer to invest in any entity or other investment vehicle.  The information herein is not intended to be used as a guide to investing or as a source of any specific investment recommendation, and it makes no implied or express recommendation concerning the suitability of an investment for any particular investor.  The opinions, projections and other forward-looking statements are based on assumptions that the authors' believe to be reasonable but are subject to a wide range of risks and uncertainties, and, therefore, actual outcomes and future events may differ materially from those expressed or implied by such statements.  Point72, L.P. or an affiliate may seek to invest in one or more of the companies discussed herein.
---