Point72 Hosts Asia Long/Short PM Offsite in Kyoto
May 2023
In March, we welcomed our Asia-based portfolio managers and members of our firm's leadership to Kyoto, Japan for a 2023 Asia Long/Short PM Offsite.
The theme of this year's event was Prepare, Perform, Propel, with content highlighting the importance of innovation and adaptability to building an enduring business.
The offsite began with welcome remarks from our CEO Steve Cohen, Co-CIO Harry Schwefel, our Head of Japan, Toby Bartlett, and Marc Desmidt, our Head of Asia Pacific. Afterwards, PMs heard from our firm's senior leaders on topics ranging from fiscal and monetary policy to business development.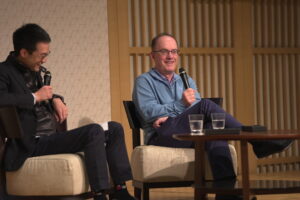 In addition to panels and Q&A sessions with our colleagues, we invited a lineup of guest speakers that led informative workshops on decision-making and sparked lively discussions that centered around the global geopolitical landscape.
At the end of each day, attendees engaged in local cultural experiences, including a sake presentation from a 14-generation family-owned sake brewery and a panel on art collecting.
The event provided our portfolio managers with valuable insights on managing teams and scaling their businesses and reinforced Point72's culture of collaboration.
This is not an advertisement nor an offer to sell nor a solicitation of an offer to invest in any entity or other investment vehicle. The information herein is not intended to be used as a guide to investing or as a source of any specific investment recommendation, and it makes no implied or express recommendation concerning the suitability of an investment for any particular investor. The opinions, projections and other forward-looking statements are based on assumptions that the authors' believe to be reasonable but are subject to a wide range of risks and uncertainties, and, therefore, actual outcomes and future events may differ materially from those expressed or implied by such statements. Point72, L.P. or an affiliate may seek to invest in one or more of the companies discussed herein.
---