Summer Intern Spotlight: Global Perspectives
August 2023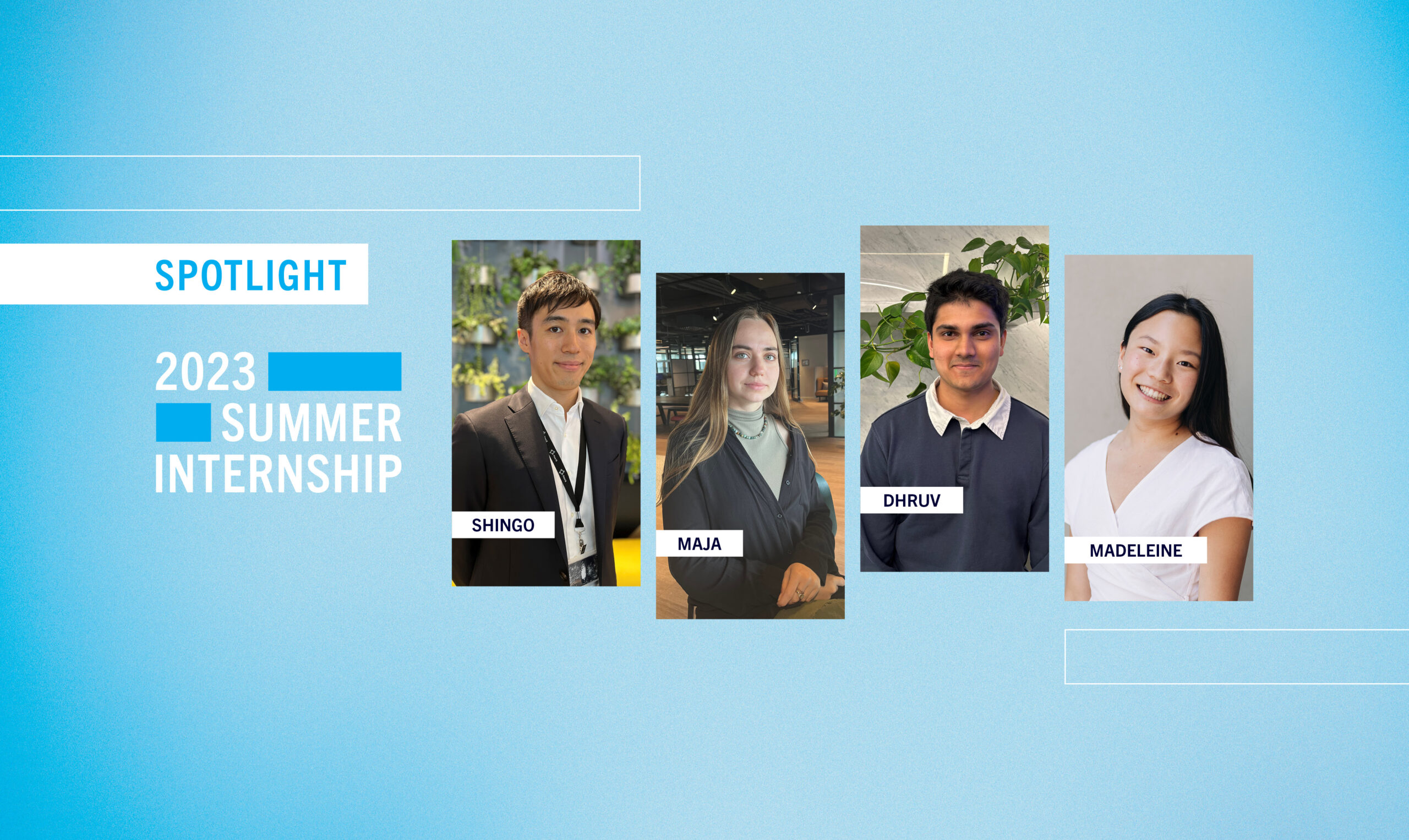 This summer, we're hosting students in offices all over the globe. We caught up with interns based in our Seattle, London, Warsaw, and Tokyo offices to learn more about what they're working on and how it's been going as the summer rolls on.
---
What is your role here for the summer? 
Madeleine: I'm the first summer intern on the Point72 Private Investments team and I'm working out of the Seattle office. I've had the chance to work across numerous teams, including our Deep Tech and Growth teams. This includes everything from supporting our portfolio companies to researching emerging technologies and learning about the sourcing process in the later stages of investing. 
Dhruv: I'm an International Sector Analyst Intern in the London office working in the Market Intelligence (MI) Data Team. We analyze compliance-approved alternative data sets and write reports about specific industries, sectors, and tickers for the investment professionals to reference.  
Maja: I'm a Technology Intern for the summer in the Warsaw office. My day-to-day usually consists of developing and delivering data transformation pipelines. I have really enjoyed learning and utilizing the technological resources Point72 has to offer. 
Shingo: I'm a Point72 Academy Summer Intern based out of Tokyo. I have done several projects during my internship including stock studies and thematic investment idea research while getting constant support and feedback from my team. 
Tell us about your hometown and educational background.
Madeleine: I was born in the Seattle area, then moved to Beijing for four years. Afterwards, I came back to Seattle before moving to Dubai for high school. I attend the Wharton School at the University of Pennsylvania, studying business. On campus, I'm involved in a few investment clubs, such as the Private Equity Venture Capital Club. 
Dhruv: I'm originally from India, but I moved to Singapore when I was six years old. I attend the London School of Economics, studying economic history. On campus, I hold leadership roles in several finance societies such as President of the Trading Society, VP of Developing Markets, and Secretary of the Restructuring Society. 
Maja: I was born and raised in Warsaw, Poland, and I am studying data science at the Warsaw University of Technology. Outside of class, my peers and I like to participate in hackathons, which are 24-hour long coding events. 
Shingo: I'm originally from Yamanashi, Japan. I attended the University of Tokyo as an undergraduate where I studied environmental engineering. After graduating, I joined a Japanese trading company where I worked as a metal commodity trader and now, I'm studying for my MBA at Carnegie Mellon University.  
How has your internship experience been so far? 
Madeleine: It has been exciting to come into the office and get to know the team. It is also very cool that my research and sourcing could potentially lead to an investment, and that I have had the opportunity to learn directly from people in the industry and join in on meetings with potential and existing PortCos. 
Dhruv: One of the most amazing things is how relevant the information and work my team is giving me is. For example, I gave a presentation to someone in Industrials, which seemed directly relevant to his work. I think that's what's unique about this internship, and all the other interns I've talked to say the same thing — we are being given real work and making meaningful contributions. 
Maja: There is an extremely open and collaborative atmosphere, and everyone has made me feel very comfortable in the office from day one. I have been engaged in data analysis projects focused on cost consumption, which has been a great learning experience so far.  
Shingo: I have really enjoyed working as an intern here. I've worked on three different projects so far and every project has given me different perspective, especially the stock study which taught me fundamental analysis methods and approaches utilized in equity long/ short strategy across the firm.  
What has been the most exciting and/or challenging part so far?
Madeleine: I think the most exciting and challenging part is being able to dive right into the work and be involved with the team and investment professionals from day one of the internship. It is a challenge to jump into something I've never done before, but I think it's rewarding to grow into the role and produce work that has an impact. 
Dhruv: When an analyst found out I was fluent in Chinese, he asked me to help him translate and interpret a document as part of a research project. It was exciting being able to apply that language outside of the classroom. The most challenging part is familiarizing myself with the sheer number of data sets the firm uses and learning when to use them, but I'm making progress as the weeks go by.  
Maja: Learning the new technologies the firm has to offer has been both the most exciting, yet challenging part of my job so far. I have developed and grown my skillset exponentially since starting a few weeks ago, which has been amazing. 
Shingo: The most exciting part is working with investment professionals in the team where I can constantly have conversations that help me advance my research projects. Simultaneously, reporting insightful research results in weekly meetings is the most challenging part. 
What's the most unique part about interning here?
Madeleine: The firm offers a ton of flexibility and I've had the freedom to tailor the internship program to what I find interesting across Private Investments. I also get exposure to everyone on the team: working with them, sitting in on meetings, and just learning about the different investment strategies. The culture here is very entrepreneurial. Everyone's trying to learn more and be the best they can, and that really stands out. 
Dhruv: The mentorship program is truly second to none. The ability to talk to people across the firm to understand the importance of each division and get career advice is an unbelievable experience that Point72 provides interns. Also, the collaboration between interns is very useful. We understand that everyone here has their own expertise and skillsets, and we're all able to help each other out when we are unsure of something, which betters the team.  
Maja: The atmosphere here is truly exceptional. The company values its employees' growth and development, which is evident in the ample opportunities for learning new skills and expanding my knowledge base. There's a positive energy that permeates throughout the workplace, and it makes me feel motivated and happy to come to work every day. 
Shingo: There is a big focus on generating investment ideas here, which I enjoy a lot. There is also a strong culture of supporting professional development. One piece of advice senior management gave me was that those who succeed in this industry have "humbleness" and "coachability". The feedback I've received so far has been instrumental to my growth. 
What is your favorite thing about working in your respective city?
Madeleine: I get to be in Seattle for the best time of year: the summer. I get to spend it with friends and family while interning, which ended up working out perfectly. 
Dhruv: The best thing about working in London is how international it is. Since I grew up in Singapore, I've always been exposed to very international backgrounds, and at Point72 in the UK, you constantly hear different languages and meet people from different parts of the world which is great. 
Maja: I absolutely love Warsaw! It's a vibrant Central European city that's growing so fast, and there are endless opportunities for personal and professional growth here. The best part is that it's incredibly safe, which makes it an ideal place to live and work for someone like me. Oh, and the food! The restaurants and cuisine are just fantastic. 
Shingo: Working in Tokyo is very convenient to live, work, and hang out in. It only takes about 30 minutes to get from the north to the south side by train, so it's easy to get to work and try new restaurants all around the city.  
What subjects are top of mind for this intern class?
Madeleine: I think everyone our age is trying to find the balance between their digital and in-person lives. We all have grown up with the evolution of social media platforms such as Instagram, TikTok, Snapchat etc., but understanding the role all these platforms play in our lives is something I think a lot of people are working on now.  
Dhruv: As university students, we've been witnessing the AI revolution in front of our eyes, so I think a lot of kids our age are excited to see where this goes and are questioning if there's a limit on its capabilities. 
Maja: I think the main themes are climate change and the technological developments that have taken place in recent years. 
Shingo: Generative AI has absolutely changed my daily life and it's something every young adult is talking about. As an MBA student, I enjoy using programs like ChatGPT as a tutor in learning programming languages and debugging code faster than I ever thought possible. 
---
If you're interested in starting your career with Point72 at one of our global offices, explore our open internship and early-career opportunities here: 
This is not an advertisement nor an offer to sell nor a solicitation of an offer to invest in any entity or other investment vehicle. The information herein is not intended to be used as a guide to investing or as a source of any specific investment recommendation, and it makes no implied or express recommendation concerning the suitability of an investment for any particular investor. The opinions, projections and other forward-looking statements are based on assumptions that the authors' believe to be reasonable but are subject to a wide range of risks and uncertainties, and, therefore, actual outcomes and future events may differ materially from those expressed or implied by such statements. Point72, L.P. or an affiliate may seek to invest in one or more of the companies discussed herein.
---