A Great Place to be a Long/Short Investor
November 2023
In our business, you want to be elevated by the people around you. If you're a portfolio manager, you need great analysts, great traders, great support teams. If you're an analyst, you need a skilled PM to teach you the craft of investing, peers that challenge and support you, and a broader organization committed to your development and success.  
We believe that to be a great company, you need PMs and analysts with repeatable, compliant processes who are engaged with the work and excited to be here. 
We believe the best way to do that is by asking questions, listening to what people have to say, and constantly evolving. Earlier this year, we completed our annual Employee Engagement Survey, an anonymous, firmwide check-in on engagement and satisfaction among our people.  
The results for the Long/Short business were very strong, and we thought it was worth sharing that data.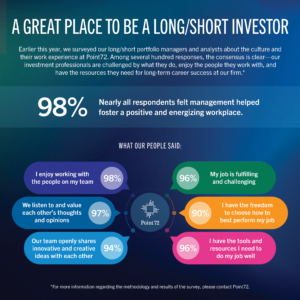 I spent almost 15 years as a Consumer PM and know firsthand both how rewarding and how sometimes grueling the job can be. I consider myself fortunate to have been able to spend most of my investing career at this firm, where I was given the resources to succeed and the freedom to be entrepreneurial. It is gratifying to see how the time and resources we're putting into hiring the right people, building the intangibles of an open and collaborative culture, and providing multiple avenues of career development has made so many of the analysts and PMs here seem to share similar feelings.
Harry Schwefel is the Co-Chief Investment Officer at Point72. He joined the firm as a Portfolio Manager in 2008 covering Consumer, Industrials, and Technology, and became Co-CIO in 2018. 
This is not an advertisement nor an offer to sell nor a solicitation of an offer to invest in any entity or other investment vehicle. The information herein is not intended to be used as a guide to investing or as a source of any specific investment recommendation, and it makes no implied or express recommendation concerning the suitability of an investment for any particular investor. The opinions, projections and other forward-looking statements are based on assumptions that the authors' believe to be reasonable but are subject to a wide range of risks and uncertainties, and, therefore, actual outcomes and future events may differ materially from those expressed or implied by such statements. Point72, L.P. or an affiliate may seek to invest in one or more of the companies discussed herein.
Individual employee experiences may differ from those presented in the survey results, and the survey results are not intended to be representative of any individual employee's experience(s).  In addition, these survey results should not serve as an endorsement of Point72, L.P. as either an employer or an Investment Advisor.
---