Ariel Speicher and Alyssa Friedman Honored by The Hedge Fund Journal
October 2023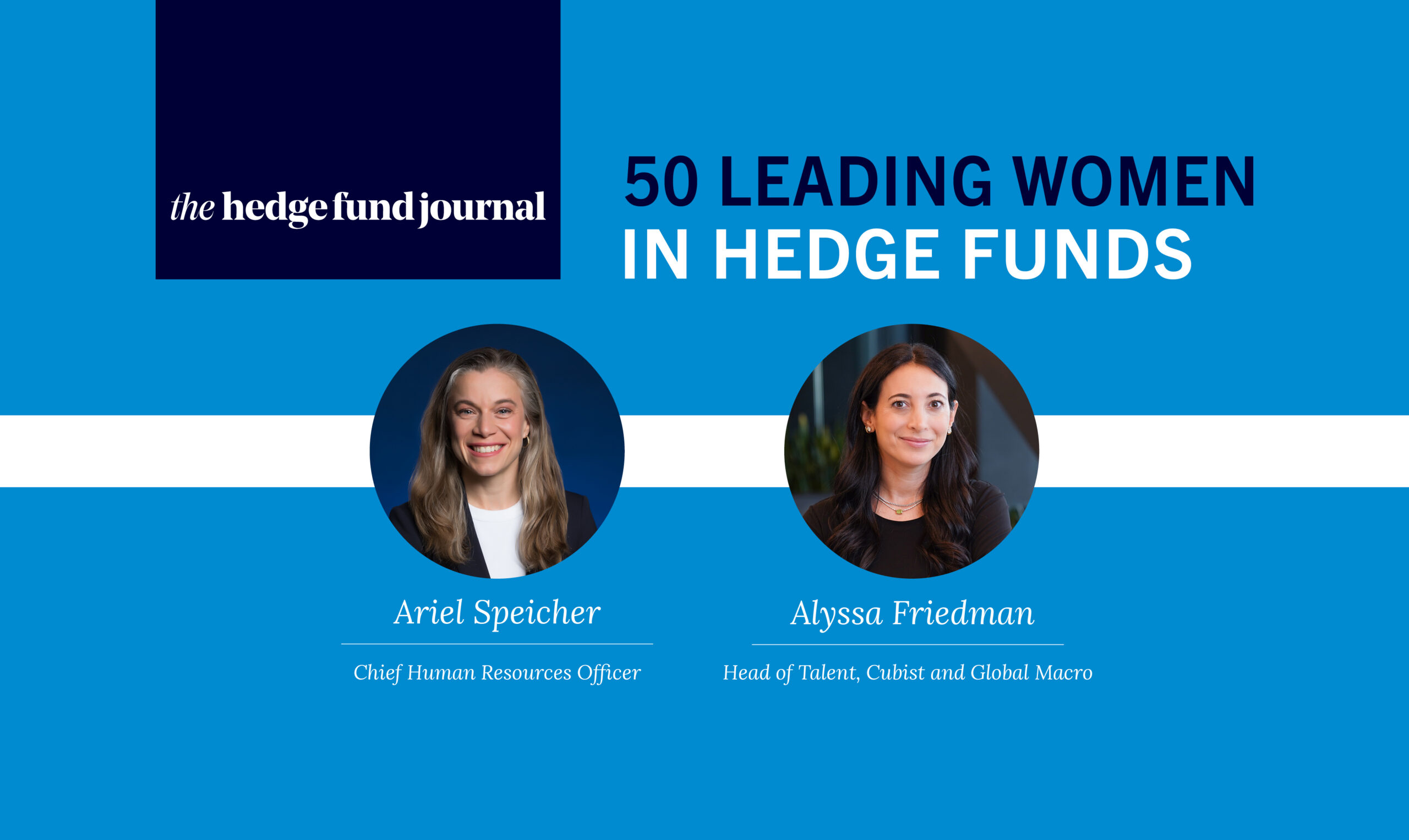 Ariel Speicher, Chief Human Resources Officer, and Alyssa Friedman, Head of Talent for Cubist and Global Macro, were named to this year's list of 50 Leading Women in Hedge Funds by The Hedge Fund Journal. Ariel and Alyssa, who have been at Point72 since 2016 and 2009, respectively, were recognized for their contributions to the growth of our firm and commitment to fostering a culture of learning and development.
The report highlighted Ariel's role overseeing our career development and coaching programs to provide employees with the necessary resources and training to hone their skills and advance their careers, while Alyssa was recognized for helping double the number of Cubist investment teams and triple the number of Global Macro investment teams since 2020, along with running the Cubist Community series.
Now in its 11th year, the 50 Leading Women in Hedge Fund report honors women across a wide range of senior investment and non-investment job functions for their contributions to their firms and supporting women in the field. This is the sixth straight year women from Point72 have been featured in the list.
Congratulations to Ariel and Alyssa on this well-deserved recognition! You can view their profiles here, and find the full report at The Hedge Fund Journal.
This is not an advertisement nor an offer to sell nor a solicitation of an offer to invest in any entity or other investment vehicle. The information herein is not intended to be used as a guide to investing or as a source of any specific investment recommendation, and it makes no implied or express recommendation concerning the suitability of an investment for any particular investor. The opinions, projections and other forward-looking statements are based on assumptions that the authors' believe to be reasonable but are subject to a wide range of risks and uncertainties, and, therefore, actual outcomes and future events may differ materially from those expressed or implied by such statements. Point72, L.P. or an affiliate may seek to invest in one or more of the companies discussed herein.
---