How I Got Here: Barry Pearson, UK Business Manager
July 2023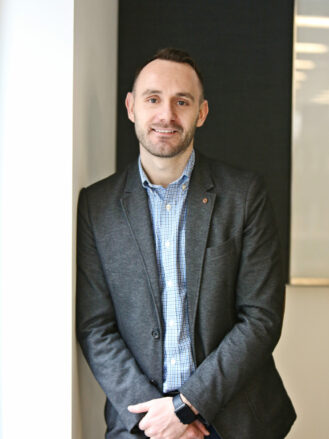 Barry joined us to talk about how his career path at Point72 took him from Internal Audit to our London office; growing up in Scotland; and how soccer (or football) brought him to the U.S.
---
Could you talk a little bit about what you do here at the firm?
As business manager for the UK, I get to be involved in nearly all aspects of our work here. My focus is on the operational elements of the UK business, and within that, our EU equities strategy. For both, I work closely with our Head of UK, Will Tovey.
On the business operations side, I spend a lot of my time liaising with all the different functions across London – Legal, Compliance, HR, Trading, Technology, Facilities, etc. — making sure that everything is running smoothly.
For the Long/Short Equity business, I'm a point of contact for PMs if they need help with anything.
What do you enjoy most about your role?
I'd say two things – the variety and the exposure to extremely intelligent people. Variety-wise, I have the opportunity to interact with colleagues throughout the firm and I get to work on a multitude of different tasks and projects. It's very difficult for me to say this is my typical Monday or Tuesday, and I find it keeps me on my toes.
Exposure-wise, I spend a lot of time chatting with our investment professionals and get a firsthand view of their passion for the job. That time with them has helped me learn a great deal, which in turn helps me grow as a professional and makes me more effective at my job.
What brought you to Point72?
My introduction to Point72 was through a recruiter who reached out about an internal audit position. I wasn't sure about the opportunity initially, but after meeting with the Head of Internal Audit, I felt that this was the place where I wanted to continue my career.
The hedge fund world was new to me – during my conversations, I was upfront that all I was looking for was an opportunity, and if given one, I'd bring my work ethic and knowledge to try and help the team and to learn and grow from there. I managed to convince them to hire me, and here I am almost seven years later.
How has your career evolved since you've been here?
At the end of my first two years in Internal Audit, I worked on an audit of the trading desk.  After we presented our results, our Global Head of Trading for Long/Short Equity offered me an opportunity to work with him to implement all of the recommendations we'd given. It was a great opportunity and I stayed in that role for over two years.
My move to London came about in a similarly unexpected fashion. That same executive in trading was visiting the London office around September 2019 when he rang me up and said, "There's an opportunity coming up in London that I think you would be a great fit for." His belief in my ability to do the job and his support encouraged me to pursue it. By February 2020 I had moved to London.
Can you talk a bit about your personal background? Where did you grow up? How did you wind up in the U.S. for university?
I grew up in a small town on the outskirts of Edinburgh called Linlithgow (the birthplace of Mary, Queen of Scots) and was a million miles away from the world of finance. My dad is a carpenter and my mum had various jobs over the years: stay-at-home mum, cleaner, caregiver, lollipop lady (a school crossing guard).
I'm the youngest of three boys, and my brothers and I were always big into football (or soccer) – our dream was to play professionally. At 18, I got an offer to play D1 at Hartwick College, so in 2004 I packed my bags and moved to Oneonta, NY.
What do you do in your free time?
I still play football, actually. Despite being from the UK, I've never lived in London, so I've used football as a way of meeting people. The games are very competitive, which I love, but they are more so about the social aspect – we hang out and grab a few beers afterwards as a team.
Having the ability to travel across Europe was also one of the big draws for me to relocate to London. Since moving here I've been to Cyprus, Ireland, Italy, France, Portugal, Poland, Spain, Slovakia, Switzerland, Turkey and even as far out as the Maldives! If I'm not travelling or playing football, I try to get back to Scotland as much as I can. Having spent 16 years in the U.S., being only four hours away now by train from home has been amazing.
This is not an advertisement nor an offer to sell nor a solicitation of an offer to invest in any entity or other investment vehicle. The information herein is not intended to be used as a guide to investing or as a source of any specific investment recommendation, and it makes no implied or express recommendation concerning the suitability of an investment for any particular investor. The opinions, projections and other forward-looking statements are based on assumptions that the authors' believe to be reasonable but are subject to a wide range of risks and uncertainties, and, therefore, actual outcomes and future events may differ materially from those expressed or implied by such statements. Point72, L.P. or an affiliate may seek to invest in one or more of the companies discussed herein.
---